How To Get HDFC Credit Card Statement Online And Offline
HDFC Credit Card Statement: Hey HDFC CC Users, If You Are Here Then I am hundred percent sure that you just want to get your HDFC Credit Card Statement Or E-statement.
don't worry if you Face any Probleme at the time of getting Statement Then here I am going to tell you 2 Ways where you can get your HDFC Bank Credit Card statement Online and Offline easily.
If You Want The Method Really Quick Than You can Skip This Part and Scroll Down The Page and start ready the Second Paragraph and you will get your Information.
Uses Of HDFC Credit Card Statement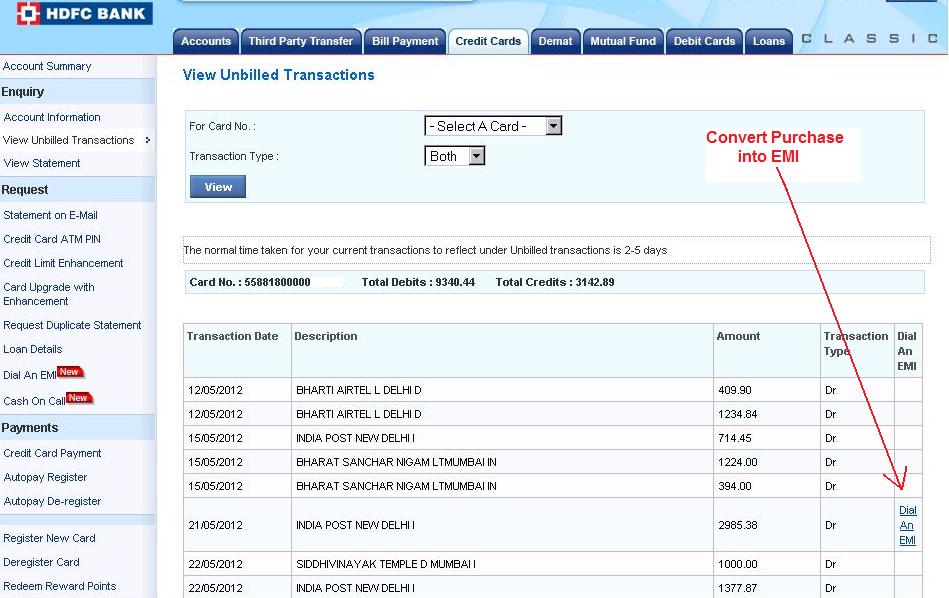 if you are a credit card holder then a statement is very important for you because a Statement is a whole summery of your Credit Card usage. everyone is always worried about their expenses that How Much They Spent Money by their Credit Card? but by the help of Statement or eStatement, You can handle or Track Your Spends Anytime. they help you to stop From Overspending with your Credit Card.
and not just you can track spends you can also check your whole every single Transaction of Your Card like where you make purchases, etc.
by default, HDFC sends statements every month to their HDFC Credit card Holders in online or offline both ways. you can check the due dates, limitation of credit card also on the statement.
If You are a new credit card holder then you think that there are any chargers to get E-statement? The answer is Big NO! you have to pay 0 Rupee for this service. it's all free. you will get automatically statement to your doorstep every month. so don't worry.
How To Get HDFC Credit Card Statement Online
the online statement services also know as Estatement, where you can Get you statement in just one click. Recently The online statement is only available on HDFC Netbanking service and if you are a new user then you can create your HDFC Credit Card Net Banking account by clicking here. it's fully free to create!
but if you have an existing net banking account then you will get your statement.
for getting your statement please follow the whole process which is mentioned below:
First Go To The Official Website Of HDFC Net Banking Website and login yourself by filling Username and password.
now on that page, you can check an option of "Statement On Email". click that option
Now they ask for choosing one selection between Office and Residence. now select what you want.
Now click the Continue button and then click confirm button on web page.
Congratulations! Your Statement is now sent on you Registered Email now go and check your email and you can print out the Hardcopy of you Statement too.
How To Get HDFC Credit Card Statement Offline
if you dont have a net banking account or don't want t to create it, then the offline method is best for you. for getting HDFC Credit card statement offline you have to just go to the nearest branch of HDFC Bank and ask for the statement. the will definitely help to provide your statement of the credit card. you can also ask your quiries related to your statement to the official HDFC Credit card cutomer care.
what if you get any Error On Your Statement? – if you found any problem or misprinting in your Statement then you have to report this problem quickly to the nearest branch or to the HDFC Credit Card Customer care. get the toll free number from here.
so, guys, I hope this post helped you a little "HDFC Credit Card Statement" and if you like it then please share it on social media with friends and family.
Thank you for Reading!